9780131217454
2nd Edition
by
Sunil Chopra, Peter Meindl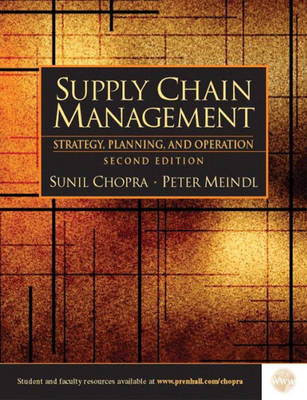 Item specification:
-

Brand new book
- Free shipping and handling Australia wide
-

Paper cover
- ISBN-10: 0131217453
- ISBN-13: 9780131217454
Detailed item info
Description

For advanced undergraduate and MBA courses in Supply Chain Management. This text brings together the strategic role of the supply chain, key strategic drivers of supply chain performance, and the tools and techniques for supply chain analysis.

Key Features

Author(s)

Peter Meindl, Sunil Chopra

Publisher

Pearson Education Limited

Date of Publication

01/04/2003

Language

English

Format

Paperback

ISBN-10

0131217453

ISBN-13

9780131217454

Subject

Management Techniques: Professional



Publication Data

Place of Publication

Harlow

Country of Publication

United Kingdom

Imprint

Prentice-Hall

Out-of-print date

16/05/2007

Content Note

Illustrations



Dimensions

Weight

1072 g

Width

206 mm

Height

256 mm

Spine

22 mm



Editorial Details

Edition Statement

2nd International edition



Description

Table Of Contents

I. BUILDING A STRATEGIC FRAMEWORK TO ANALYZE SUPPLY CHAINS. 1. Understanding the Supply Chain. 2. Supply Chain Performance: Achieving Strategic Fit and Scope. 3. Supply Chain Drivers and Obstacles. II. DESIGNING THE SUPPLY CHAIN NETWORK. 4. Designing the Distribution Network in a Supply Chain. 5. Network Design in the Supply Chain. 6. Network Design in an Uncertain Environment. III. PLANNING DEMAND AND SUPPLY. 7. Demand Forecasting in a Supply Chain. 8. Aggregate Planning in the Supply Chain. 9. Planning Supply and Demand in the Supply Chain: Managing Predictable Variability. IV. PLANNING AND MANAGING INVENTORIES IN A SUPPLY CHAIN. 10. Managing Economies of Scale in the Supply Chain: Cycle Inventory. 11. Managing Uncertainty in the Supply Chain: Safety Inventory. 12. Determining Optimal Level of Product Availability. V. SOURCING, TRANSPORTING, AND PRICING PRODUCT. 13. Sourcing Decisions in a Supply Chain. 14. Transportation in the Supply Chain. 15. Pricing and Revenue Management in the Supply Chain. VI. COORDINATION AND TECHNOLOGY IN THE SUPPLY CHAIN. 16. Coordination in the Supply Chain. 17. Information Technology and the Supply Chain. 18. e-business and the Supply Chain.



Copyright in bibliographic data and cover images is held by Nielsen Book Services Limited or by the publishers or by their respective licensors: all rights reserved.
***************************************
Textbooks and Books (T&B):
Supply Chain Management,
Strategy,
Planning,
Operation,
Cheap Books
Buy Books Online
Buy Textbooks
Textbooks Sell
Uni
Online Bookstore
Book sales
Book store